Fern Lace Wrap has doubled in size since the last posting. This is a slow go ..... I must pay very careful attention or I goof up.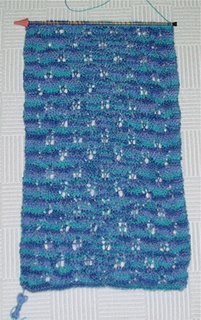 I think I'll get my sweater back out for some good old stockinette stitch!

Regarding my last acrylic liking post:

I do knit with other fibers. I also *very much* like cotton blends, silks and alpaca. I think any yarn, be it a blend, a natural fiber or a man-made one should be regarded for it's qualities that we feel are good. I just get tired of many of the nice affordable yarns having wool content and I have to search and search for something I can wear. And I am not ready to justify spending $75-100 on a scarf or $30 on a pair of socks - no matter how lovely the yarn is. Now on a sweater - that is a different story.

100% cotton makes my wrists hurt, so I only knit a few face clothes once in a while.

Thanks Tey for your soy silk and bamboo suggestions. I will look into them. And yes, I am allergic - itching, breaking out in hives, etc. I cannot even wear lined wool slacks or skirts.

Alpaca seems okay so far, and I have a pair of cashmere lined gloves that are okay too. I would love to knit with cashmere or cashmere and silk blend, but I don't think my pockets are deep enough for that!

I think there are many good fibers available and not all of them are natural. Give some a try you would normally walk past- you might be pleasantly surprised.